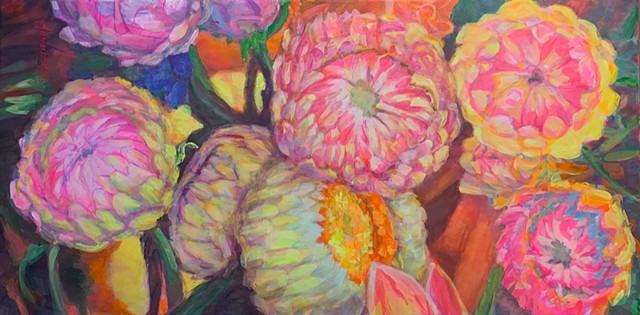 Welcome to my website.
Here are some navigation tips that may be helpful.
Clicking on the menu tabs above will open to the corresponding pages.
To view paintings you must select/click/tap the menu item "Shows and Galleries" then select one of the images to further open that gallery.
Once in the gallery, images can be clicked on/tapped to open up details and made larger.
There are currently two galleries to view.
The most recent work is in March to March, A Year in Color, a solo exhibit at Pennswood Art Gallery, March 21 - May 9 2021.
Enjoy!
Here is my bio for consideration:
Jim is the Director of Education for the AOY Art Center in Yardley, PA. coordinating adult and youth classes and workshops. He also teaches classes in painting and abstraction.
Jim Bongartz was born in Pittsburgh, Pennsylvania where he began studies at Carnegie-Mellon University followed by a Bachelor of Science Degree in Art Education at Edinboro University of Pennsylvania. After moving to the Philadelphia area in 1989, he began a twenty two year career as a full time art teacher for a private, special education, K-12 school in Fort Washington, PA. While teaching, Jim kept a working studio in pursuit of his painting career. One of Jim's treasured accomplishments was maintaining weekly painting sessions with painter Steve Kennedy for over 15 years. Jim turned to acrylics, painting images inspired from his photography referencing how the camera interprets light, color, motion, and time. Allowing the camera to capture an exploratory moment in travel, play or daily life, Jim transforms the graphic nature of photography to a painterly world with bold color and brushwork.
Jim has been an active member of ART+10, a Princeton-based artist collaborative and a member of ArtsBridge, Stockton, NJ.and
previous artist associations that include the Philadelphia Sketch Club, Greater Norristown Art League and gallery representation in the Philadelphia, New Jersey and Pittsburgh areas.
Follow Jim on Facebook
Recent exhibits:
2021: Solo: March to March, Pennswood Gallery, Newtown, Pa
2020: Solo: NEXUS, Pennswood Gallery, Newtown, Pa
2019: AOY 8th Annual Juried Show, Second Place
2019: Lambertville NJ Historical Society Invitational
2018 - 2019: Touchstone Gallery, Yardley, PA, Solo and ongoing representation.
2018: New Hope Art League Juried Show, Merit Award.
2018: "Humanesque", ART+10, Present Day Club, Princeton , NJ
2017/2018: Solo, Jerry's Bar, Philadelphia, PA
2016 - 2018: AOY 5th, 6th and 7th Annual Juried Exhibit.
2015: 86th Juried Art Exhibition at Phillips' Mill.
2014 : Arts Council of Princeton (ACP), Looking In/Looking Out, Invitational Group Show, Art+10.
2014: AOY 3rd Annual Juried Exhibit, Juror: David Shevlino.
2013 : "Sights and Sounds of Spain", St. Johns Creative Arts Series, Melrose Park, PA, Solo exhibit.
2012: "PLAYBACK", Solo Exhibit, Cafe 44, Princeton, NJ.
2012: "A Slice of Life", ART+10, Group Show, Cafe 44, Princeton NJ.
2009: "The Nature of Things", St. John's Lutheran Church, Melrose Park, PA. Solo exhibit.
2008: Newman Gallery, Philadelphia, PA. Members show, Philadelphia Sketch Club.
2007 – 2008: Verde Home, Ambler, PA. Gallery member.
2006 – 2007: Swan Gallery. Gallery member.
2006: Phoenix Village Art Center, Phoenixville, PA. Solo exhibit.
2006: "All Fired Up", The Plastic Club, Juried Show - Second Prize.
2005: Cheltenham Art Center, Juried Show - Honorable Mention.